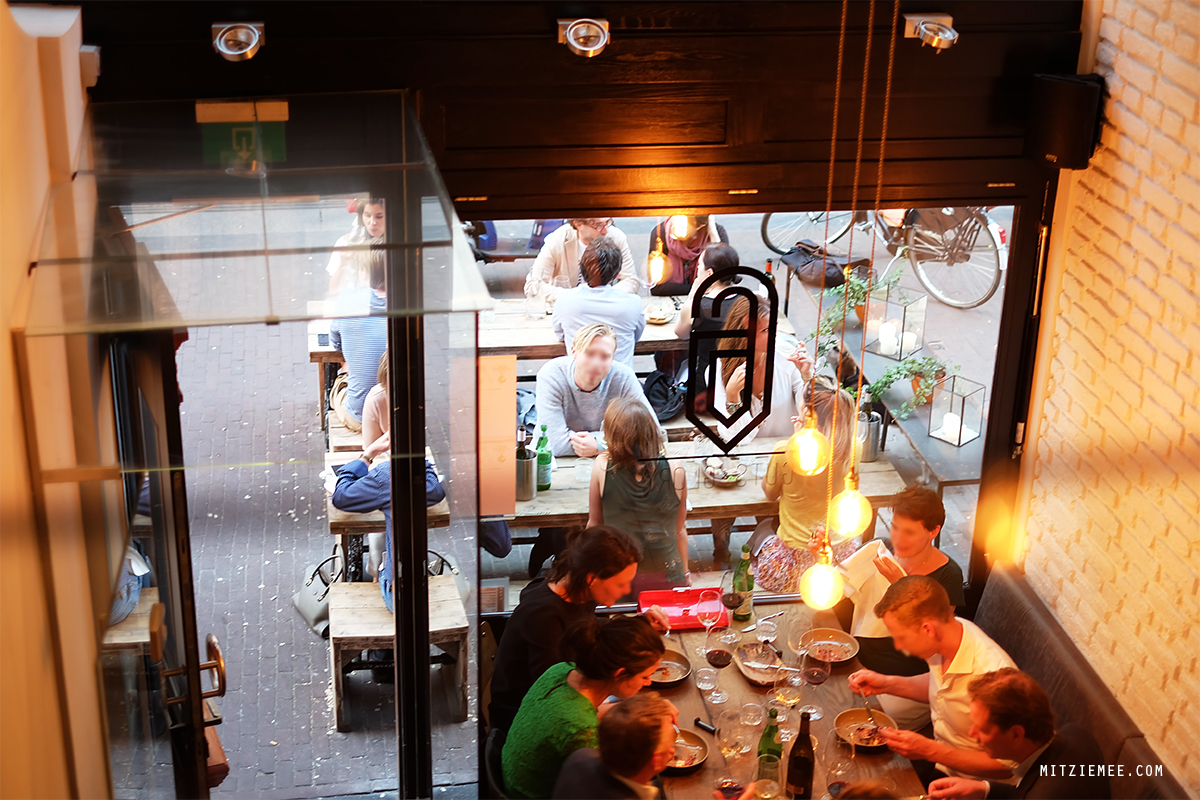 Hvis du siger Holland, så tænker jeg først og fremmest på træsko, cannabis og tulipaner. Inden jeg tog til Amsterdam havde jeg derfor ingen anelse om, hvordan byen var rent kulinarisk. Det viste sig dog, at byen er fuld af gode spisesteder, og Guts & Glory er en af dem.
Guts & Glory lå tæt på vores hotel. Det så ud som en rigtig hyggelig restaurant, så jeg googlede den, og forsøgte at bestille bord online. Desværre var der fuldbooket, men eftersom vi ikke havde andet for os, besluttede Poul og jeg os for at smutte forbi alligevel ved aftensmadstid, og vi var så heldige, at de lige havde et bord til to ledigt.
På Guts & Glory vælger de hver 6. måned et tema, som de baserer deres menu på. Da vi var der, var temaet grøntsager, men både Poul og jeg er flexetarians i hverdagene, så det var ikke noget, der skræmte os. Dog var Poul lidt bekymret for, at vi ikke ville blive ordentligt mætte, så vi besluttede os for 6-rettersmenuen til 55EUR. Set i bagklogskabens klare lys, ville 5 retter dog have været mere end nok.
Den indbagte asparges med hollandaisesauce smagte skønt, og det samme gjorde ægget med hasselnødder, kantareller og brødkrummer. På papiret lød retten med rødløg også lovende men smagen kom lidt for tæt på en god dansk hotdog uden pølse og brød, og jeg kunne ikke rigtig abstrahere fra en-ristet-med-det-hele-associationen. Falaflen virkede lidt malplaceret, for selv om den smagte udmærket, så var den alt for bastant og usofistikeret til at udfylde rollen som show-stopper.
Den første dessert var agurkesorbet med marengs. Den mindede meget om den dessert jeg fik på Bror i København, synes I ikke? Den eneste forskel var at på Guts & Glory, var det agurkesorbet, mens det på Bror var rabarbersorbet. En chokolademousse glider jo altid ned, og er der pecannødder på toppen, er det jo ikke til at stå for. Dog synes jeg, at man det overordnede tema taget i betragtning, nok kunne have fundet på en mere grøntsags-domineret dessert.
---
Guts & Glory har byttet navn til GUTS: GUTS, Utrechtsestraat 6, 1017 VN Amsterdam