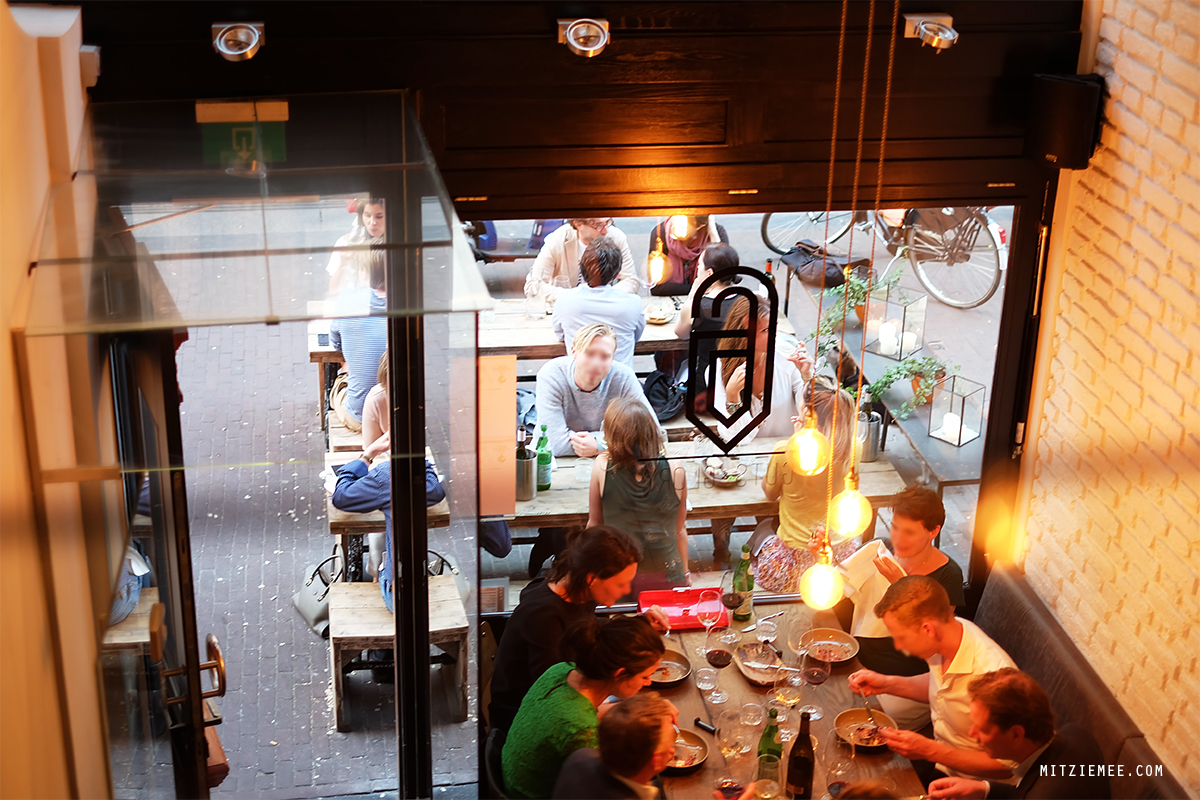 Close to our hotel was a restaurant called Guts & Glory. It looked really nice, so I looked it up on Google and tried to make an online reservation. Unfortunately, it was fully booked, but with nothing better to do, Poul and I decided to give it a shot anyway. Luckily, they had a table for two upstairs.
Guts & Glory is a hip little spot. Every 6 months, they pick a different theme and base their menu on that. When we were there, the theme was vegetables. Poul and I are weekday flexitarians, so the thought of a meat-free meal didn't scare us. The only thing Poul was a bit worried about, was whether the vegetables would be filling enough. We therefore decided to go for the 6-course menu for 57EUR. In retrospect, I'm sure we would have been fine with 5 courses.
The asparagus with hollandaise was delicious, and so was the egg with hazelnut, chanterelles and bread crumbs. On paper, the red onions sounded like an interesting encounter, but the combination of flavors came very close to the taste of the toppings, we use on hotdogs in Denmark. I couldn't help thinking how nice it would have been on top of a gourmet sausage. The falafel seemed a bit misplaced. It was tasty, but way too heavy for the show-stopper role, it was assigned.
The first dessert was a cucumber sorbet with meringue. It looks like the one, I had at Bror in Copenhagen, don't you think? The only difference is that the one at Guts & Glory had cucumber sorbet instead of rhubarb sorbet. Chocolate mousse never fails to bring a smile on my face, and pecan nuts are just extra icing on the cake. Though with so many tasty vegetables out there, and considering the overall theme, I think they could have come up with something more exciting.
Before visiting Amsterdam, I had no idea what the city would be like food-wise. Say Netherlands, and I'll first and foremost think of clogs, tulips and cannabis, none of which are edible. After my trip, I'm still not sure what traditional Dutch food is, because even though we had some really tasty meals, most of them were at international restaurants like Guts & Glory.
Maybe you know what the Dutch people eat?
---
Guts & Glory has now changed name to GUTS: GUTS, Utrechtsestraat 6, 1017 VN Amsterdam