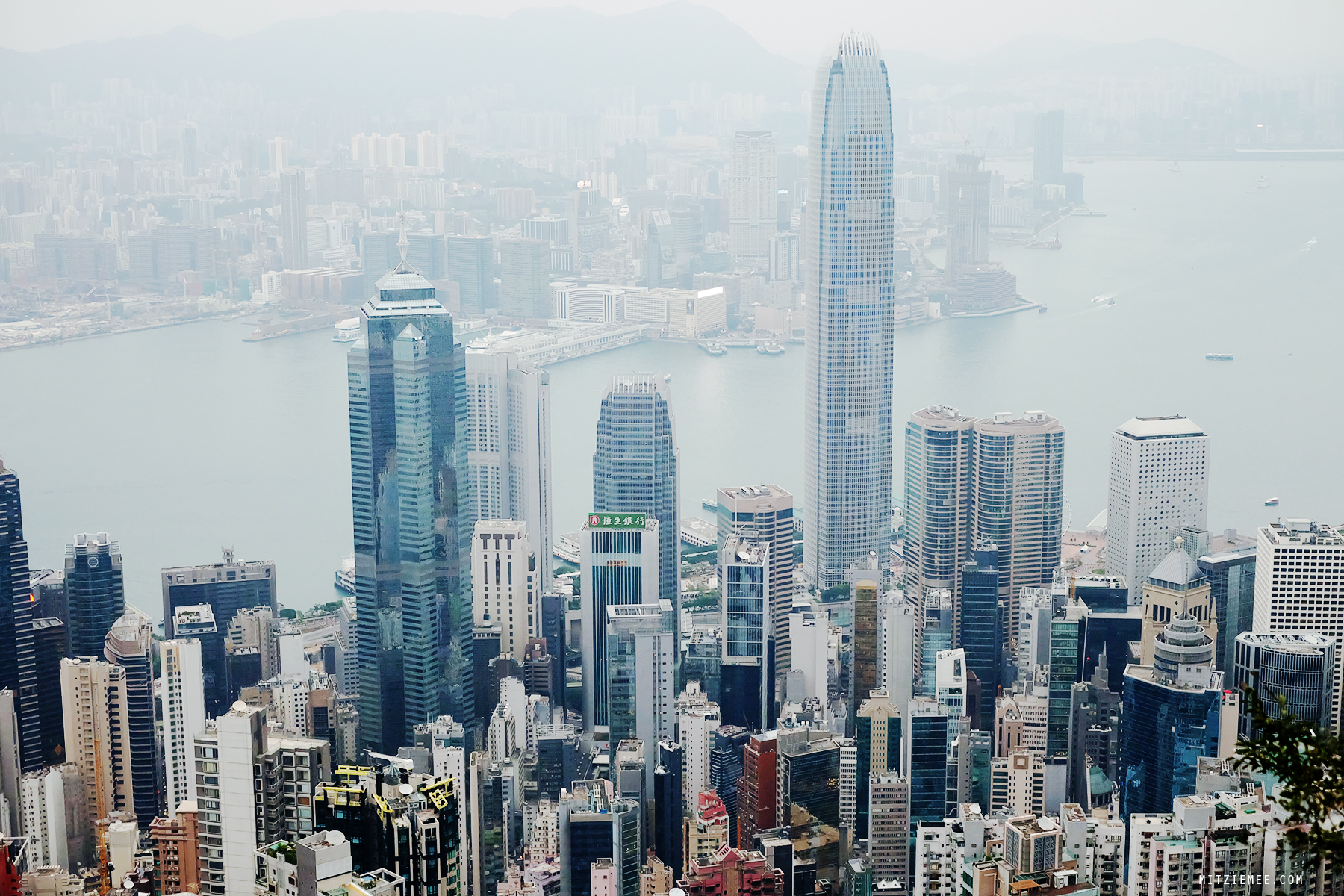 Hong Kong er smukkest set oppefra, så på vores første dag tog AC og jeg op til The Peak for at nyde udsigten. Efter en nervepirrende tur med sporvognen op til toppen (det går meget stejlt opad!), trådte vi lige ind i et shoppingcenter.

Jeg kan huske nogenlunde samme sightseeing/shoppingcenter-kombination, fra dengang Poul og jeg besøgte The Big Buddha i Hong Kong sidste år, og jeg er sikker på, at det er en fremragende måde at få turisterne til at bruge endnu flere penge. Dog er jeg også sikker på, at oplevelsen ville have været meget finere og mere autentisk uden alle butikker og restauranter.
Fra udsigtspunktet udenfor butikscenteret havde vi dog en fantastisk udsigt over Kowloon Bay og det omkringliggende, bjergrige område, men AC har boet længe nok i Norge til at være blevet helt vild med at vandre, så hun fik mig overtalt til også lige at følge med hende ud på Hong Kong Peak vandreruten, som er en ca. 3km lang tur rundt om The Peak.
Jeg er jo ellers ikke nogen større fan af fysisk aktivitet, men jeg var glad for, at jeg gik med. Ruten var stort set mennesketom, så efter kun få minutter kunne vi ikke længere hverken se eller høre de andre turister deroppe.
Det var en let rute uden terræn, men vi tog os god tid, og før vi vidste af det, var det blevet mørkt og en lille smule skummelt. Vi skyndte os derfor tilbage til de andre turister for at tage nogle natbilleder af Kowloon Bay.
Det viste sig hurtigt at være lidt af en udfordring, for Selfie-Folket fyldte på det tidspunkt godt op i landskabet. Nu snakker ikke om et hurtigt, håndholdt iPhone-selfie. Nope. Mindst 3 forskellige vinkler med selfie-stave, som var lange nok til at nå stjernerne på himmelen, og vi måtte pænt vente på, at det blev vores tur. Under tiden blev der råbt af mig på kinesisk flere gange, fordi jeg ved et uheld kom til at photo-bombe et gruppeselfie. Er det bare mig, eller bringer Selfie-stænger det værste frem i visse personer?
Natudsigten fra The Peak var betagende. Hong Kong så ud som en helt anden by, med alle lysene tændt, og jeg følte mig som en marsmand, der kiggede ned på jorden og spekulerede på, om der mon var liv dernede. Vi brugte over 3 timer oppe på The Peak, og jeg kunne sagtens være blevet 3 timer mere, men det var fredag aften og Lan Kwai Fong kaldte, så vi tog sporvognen tilbage igen og gjorde os klar til at se nærmere på nattelivet i Hong Kong.
---
Man stiger på sporvognen The Peak Tram fra stationen på Garden Road. Forbavsende mange mennesker får plads i hver vogn, så man skal ikke alde sig afskrække af den lange kø. Vi var der ved 16-tiden og ventede ikke mere end 30 minutter, før det blev vores tur.
Turen med sporvognen uden nogle tillægsparker kostede 40HKD for en returbillet, og vi købte billetterne på stationen.
The Peak Tram kører hvert 10.-15- minut hver dag mellem 7:00-24:00
Læs mere på The Peak's website
Tine fra A World to Explore har også besøgt The Peak. Det gjorde hun på en 9-timers mellemlanding i Hong Kong, som I kan læse om her