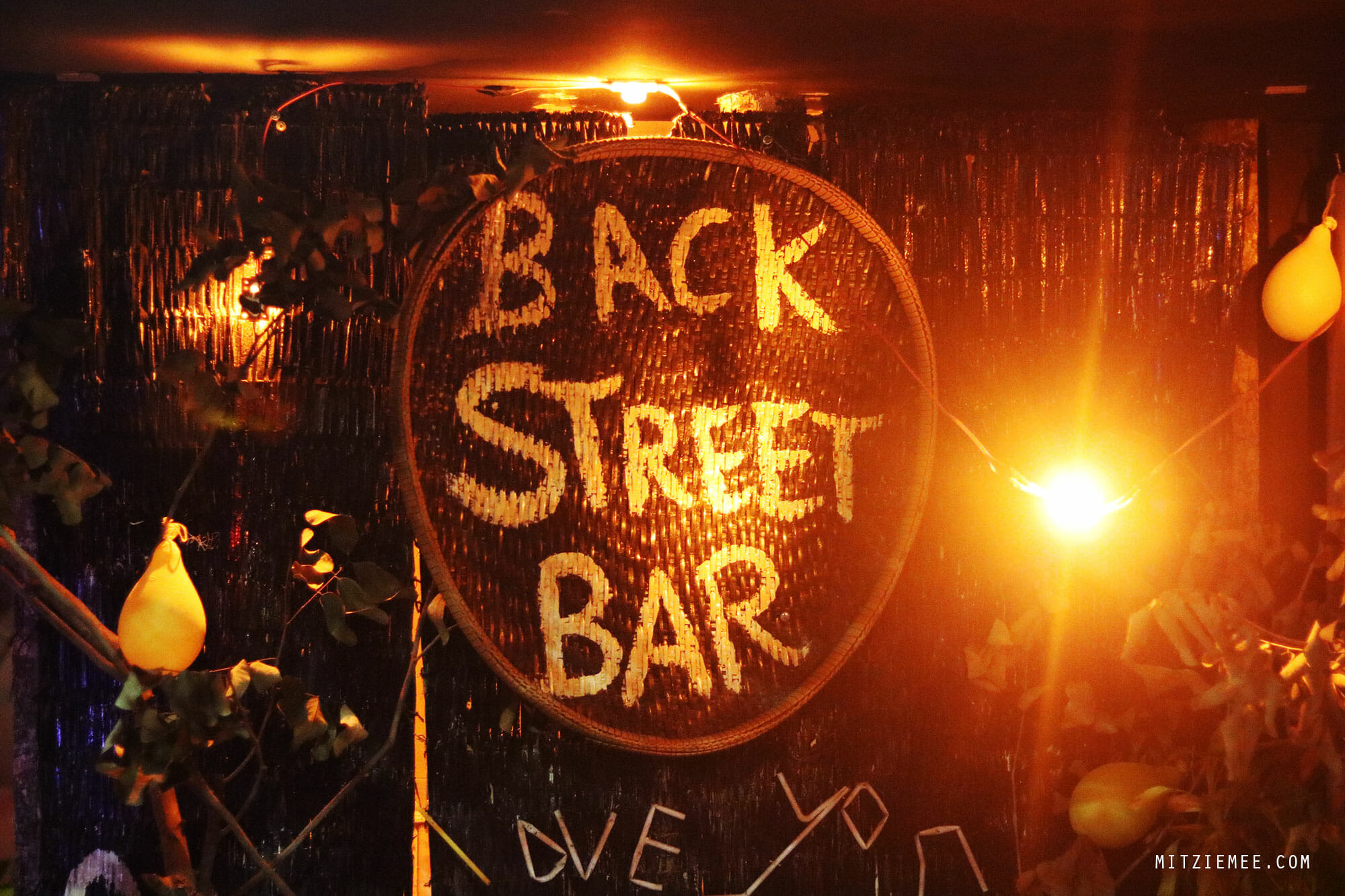 Sammenlignet med andre asiatiske storbyer, så er nattelivet i Phnom Penh noget mere afdæmpet, men ved man hvor man skal gå hen behøver man ikke at gå tørstig i seng. Byens rooftopbarer tilbyder et kærkomment afbræk fra de travle gader og byens hektiske trafik.
En øl koster sjældent mere end en dollar eller to, og en cocktail på de mere fancy steder koster sjældent mere end 6-8$. Mange steder har desuden happy hour hvor man får to drinks for en drinks pris. Dresscode afhænger af hvor man går hen, men som kvinde slipper man af sted med det meste. På rooftop bars og mere fancy steder klæder de fleste sig dog pænt på.
Nedenfor kan I læse om nogle af de barer som jeg har besøgt og som jeg af den ene eller anden grund synes særligt godt om. Natklubber orker jeg ikke rigtigt længere, så det må I læse om andre steder:)
Backstreet Bar
Backstreet Bar er så godt gemt af vejen at man skulle tro det var en speakeasy. Her samles expats, turister og lokale, og herlige Thida, som er den cambodianske kvinde, der driver baren, sørger for at stemningen altid er i top og at alle føler sig velkomne. Der kan godt være lidt stille i hverdagene, men i weekenden plejer der at være fest. Desuden er både Thida og Lina altid friske på en snak, så man behøver ikke at kede sig. De fleste tager en kold fadøl, men deres cocktails er faktisk rigtig gode og billige. Sig til Lina eller Thida, hvad du har lyst til, og så mixer de noget ud fra dine præferencer.
Backstreet Bar, #43 Sothearos Boulevard, Phnom Penh
Vehaa
Skøn rooftop bar i en ikke alt for høj bygning. Da jeg var der var det primært lokale samt et par enkelte expats der holdt til. Virkelig gode drinks og en menu som er væsentligt bedre end hvad man sædvanligvis finder på tilsvarende etablissementer.
Vehaa, #59b, Street, Samdach Sothearos Blvd (3), Phnom Penh
Est Bar
Musikken er dæmpet og klientellet er mere modent, i den hyggelige bar, der fordelt på to etager med en udendørs terrasse. Et diskret skilt gør opmærksom på barens eksistens, men den er let at overse, hvis man ikke ved, at den ligger der. Baren har en solid fanskare blandt Phnom Penhs expats af den mere sofistikerede slags, og indenfor er atmosfæren også mere som en voksen privatfest (jeg vil skyde på at de fleste på Est er 30-50 år gamle).
Est Bar, House 19, Street 214, Sangkat Boeung Raing, Khan Daun Penh រាជធានី​ភ្នំពេញ, 12211, Cambodia
BattBong
En Coca Cola-automat kamuflerer indgangen til BattBong, der nok er Phnom Penhs mest velkendte speakeasy. Der er livemusik og man kan også få stillet både den lille og den store sult fra retterne på menuen, der byder på både lokale og internationale retter. Jeg har kun været der en enkelt gang, og der var de andre gæster et godt mix af lokale cambodianere og expats i 20'erne.
BattBong, Corner of 51st and 288st, end of small alley, Phnom PenhCambodia