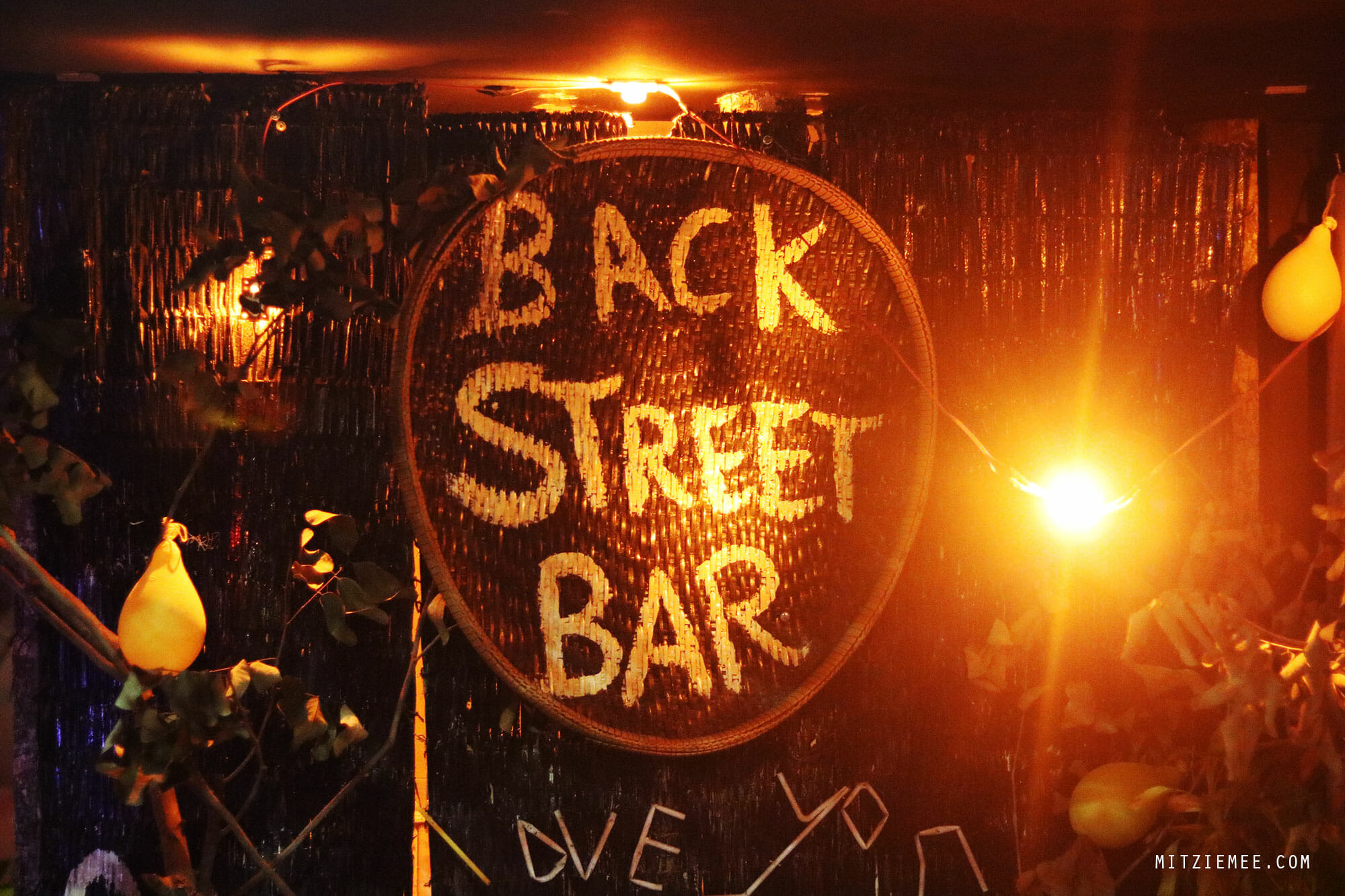 Compared to other big cities in Asia, the nightlife in Phnom Penh might seem less wild and crazy, but the selection of bars is decent with something for everyone.
Escape the hustle and bustle at one of the city's beautiful rooftop bars or grab a drink and get another one for free during happy hour. A beer only rarely costs more than a dollar or two, and even at the fancier places, cocktails are typically no more than $6-8. The dress code depends on the venue, and for rooftops and more upscale places people tend to dress up. Here are some of the best bars that I have visited and that I really liked.
My clubbing days are over, so if you want to read about night clubs in Phnom Penh, you have to look elsewhere.
Backstreet Bar
Backstreet bar is so well-hidden that it is almost a speakeasy. It's a popular meeting place for expats, tourists and locals and Thida, the wonderful Khmer woman who runs the bar, makes sure that everybody feels welcome. During the week the bar is quiet, and the clientele is mostly made up by old patrons stopping by for a drink, but on weekends, the bar really comes to life. Thida and her friend and fellow bartender Lina are always ready for a talk, and no one knows Phnom Penh better than they do. Compared to the other places I mention in this guide, the drinks at Backstreet Bar are cheap. Furthermore, they have happy hour each day between 5pm-7pm and the cocktails are strong and tasty (I can recommend everything with passion fruit). Tell Lina or Thida what flavor you are after and they will mix you something according to your preferences.
Backstreet Bar is located down a tiny alley from Sothearos Blvd. right after Park Cafe. Look for the sign.
Backstreet Bar, #43 Sothearos Boulevard, Phnom Penh
Vehaa
Wonderful rooftop bar in a not so tall building. Very nice drinks and a food menu that is significantly better than what I had expected. When I was there, the clientele was a nice mix of expats and locals.
Vehaa, #59b, Street, Samdach Sothearos Blvd (3), Phnom Penh
Est Bar
Est has a solid fanbase among the city's more mature expat crowd. The bar takes up two floors including an outdoor terrace, and there is also a dining area featuring local artwork on the walls. The bar looks more like a private villa, so it is easy to miss if it wasn't for the discreet sign on the street points you in the right direction.
The stylish surroundings and the friendly staff all add to the nice experience and Est actually feels like a party at somebody's home. If you are 30+ and looking for a classy place to dine/hang-out/network/chill, Est Bar is an obvious choice.
Est Bar, House 19, Street 214, Sangkat Boeung Raing, Khan Daun Penh រាជធានី​ភ្នំពេញ, 12211, Cambodia
BattBong
Behind what looks like a Coca Cola vending machine is the entrance to Phnom Penh's most famous speakeasy. Live music, excellent cocktails and a mixed crowd of hipster 20-somethings set the scene for one of the most popular bars in Phnom Penh. Cocktails are $6 and if you get hungry you can order something from the extensive, predominantly international, food menu (though I remember seeing Khmer fried frog among the dishes).
BattBong, Corner of 51st and 288st, end of small alley, Phnom PenhCambodia