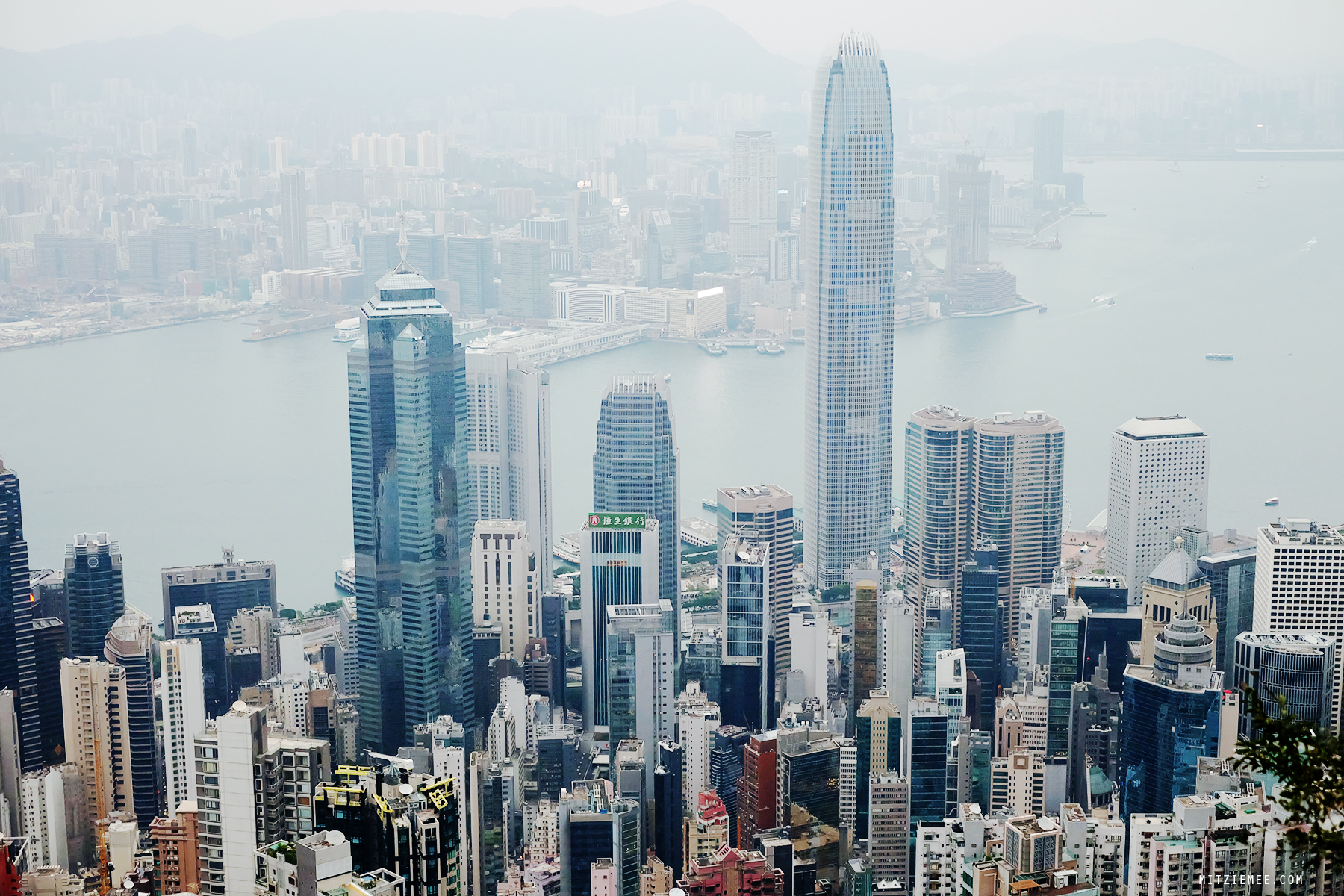 Hong Kong looks most beautiful from above, so on our first day in the city, AC and I went up to The Peak to enjoy the view. After a nerve-racking tram ride (that track is so steep!) we stepped right into a shopping galleria.
I remember the same layout with the sightseeing/shopping arcade combo from when Poul and I visited the Big Buddha last year, and I'm sure it's a great way to earn some extra cash from the tourists, but I'm also sure that the whole experience would have been so much nicer without all the shops and restaurants.
From the vantage point outside the galleria, we had a marvelous view of Kowloon Bay and the surrounding mountainous area, but AC has been living long enough in Norway to been bitten by the hiking bug, so she managed to convince me to go on a quick 3km hike on the Hong Kong Trail around The Peak.
Now I don't usually do hiking, but I'm glad that we went. The hiking trail was almost empty, and after just a few minutes walk, we lost both sight and sound of the other Peak visitors. The hiking trail was easy, without any elevations, but we took our time and before we knew, it was getting dark and slightly spooky, so we hurried back to the madding crowd and tried to get some night shots of the bay.
It was quite a challenge as The Selfie Crowd had now entered the stage. We're not just talking about a quick, hand-held iPhone shot. Nope. At least three different angles, with selfie-sticks long enough to touch the stars above, so we patiently waited our turn. I was yelled at in Chinese because I accidentally stepped in front of a selfie-shot in progress. Mind you, selfie-sticks bring out the worst in some people.
The night vista from The Peak was hypnotizing. Hong Kong looked like a completely different city with all the lights on, and I felt like a Martian gazing at the earth from outer space, wondering what life is like down there. We spend more than 3 hours at The Peak and I could easily have spent 3 hours more, but it was Friday night and Lan Kwai Fong was calling, so we took the tram back and got ready for a night out.
You get on The Peak Tram at the station on Garden Road. Quite a lot of people fit into the tram, so don't let the long queue discourage you. We arrived around 16:00 and didn't wait more than 30 minutes to get on.
The basic tram ride, without any add-ons, is 40HKD for a return ticket and tickets are sold at the station.
The Peak Tram runs every 10-15 minutes, every day from 7:00-24:00.
Visit The Peak website for more info