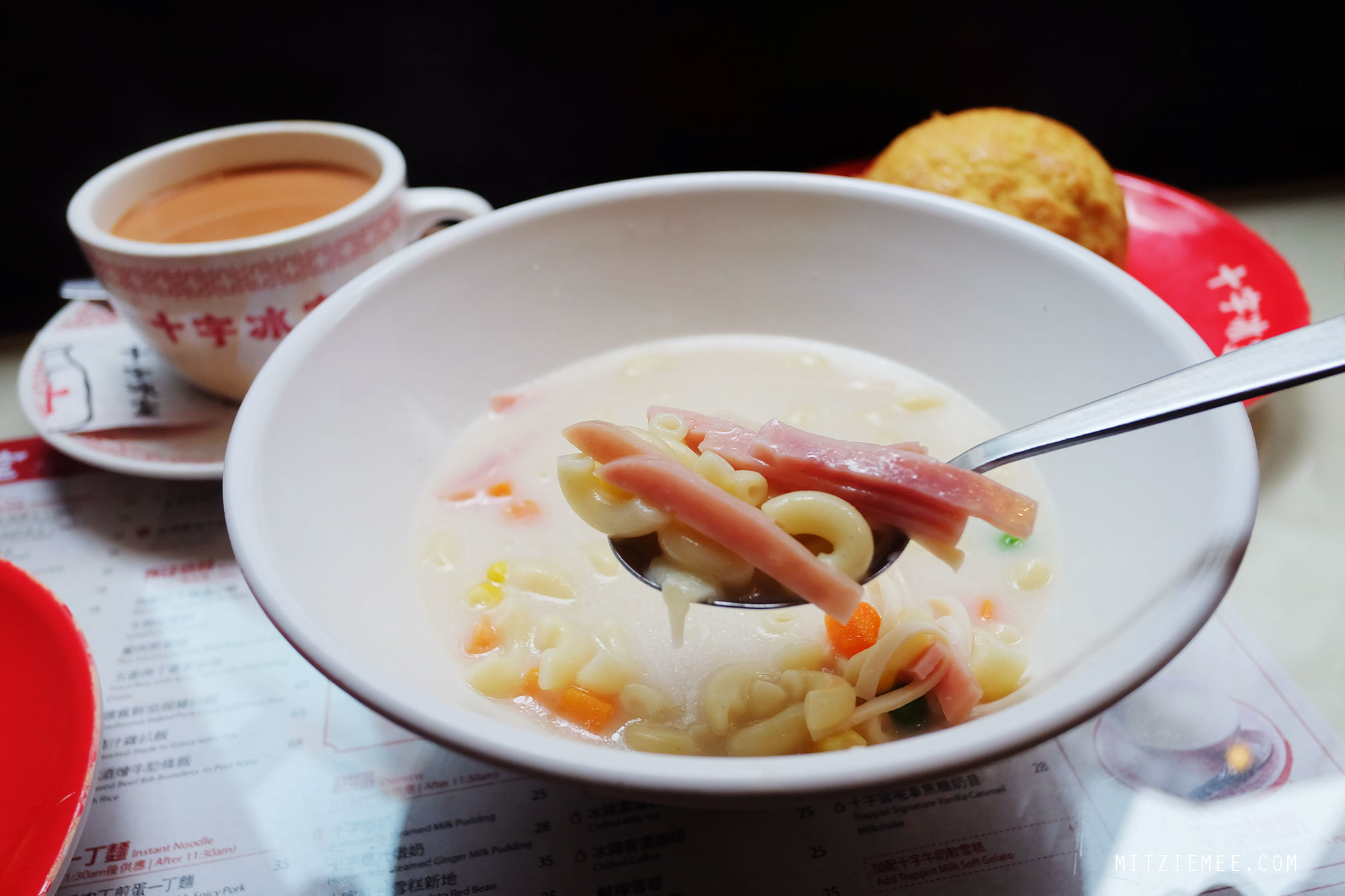 Nearby the hotel in Hong Kong was a really nice cafe, Cross Cafe. I went there for breakfast and had a set menu with macaroni soup with ham (or spam), toast and scrambled eggs. Macaroni soup is a popular Hong Kong breakfast dish, and yes, it tastes a lot better than it looks. The white broth was rich in flavor and the mix of green peas, carrot and ham made me think of a soup version of old-school Danish tartlets (tarteletter).
I also had a pineapple bun, which does not contain any pineapple, but got its name because of the crusty topping, which looks a bit like the surface of a pineapple. The bun is served hot with a thick slab of butter that melts while you eat the bun and makes the inside moist and buttery.
Pineapple buns taste even better with a cup of Hong Kong Milk Tea, which is an orange-brownish tea mixed with evaporated and condensed milk. It is a strong, sweet drink with a toffee-like aftertaste, a bit like Thai milk tea or Indian karak.
The milk at Cross Café comes from Trappist Dairy, which is an old Hong Kong dairy brand run by a monastery on Lantau island. A lot of people in Hong Kong grew up with milk from Trappist Dairy and get all nostalgic about the brand.
Most breakfast sets at Cross Café are around 36-40HKD and include coffee or tea. Quite a steal considering the nice surroundings and the tasty food. There are two Cross Cafe branches in Hong Kong and the one I tried is located in Causeway Bay. The signboard outside the cafe only displays the name in Chinese, but look for a retro signboard with a cross as the first character, and you are at the right spot.